Ditch the math
Vic Tesolin shares his secret to measuring woodworking projects accurately: Start with some numbers, finish with none.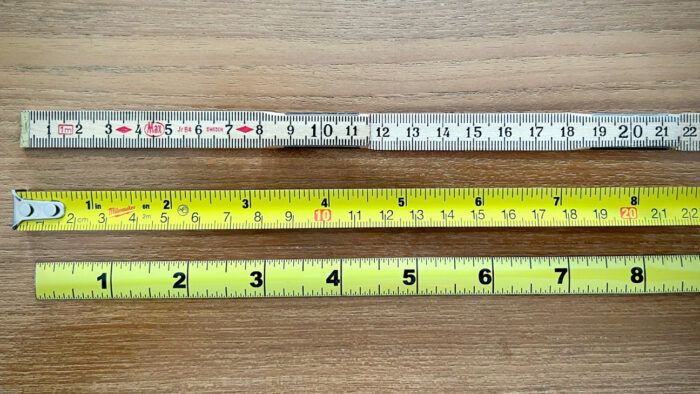 There is no lack of debate on the internet when it comes to woodworking. One of the most controversial is whether to use imperial or metric measurements. This is really only an issue in North America, as the majority of the woodworking world works in metric. I work in metric because I find it easier, but to be honest, I drop numerical values as soon as I can in my builds because if you want to work as accurately as possible, it's advantageous to lose the numbers.
I have a tongue-in-cheek saying that goes like this: "Numbers lead to math, math leads to mistakes, and mistakes lead to drinking." It's meant to be humorous, but what isn't funny is a critical error made on a project that could have been avoided by not using numbers or math to determine a component's size.
So what's a woodworker to do without numbers? Referential measurement is the solution in these cases. Imagine you've made a small box and you need to make a drop-on lid. The common method is to grab some sort of measuring tool like a rule, measure the opening, and then build the top according to those numbers.
Fun fact of the day: what's the difference between a ruler and a rule? The graduations of a ruler generally start away from the end and a rule starts the graduations on the end. More often than not, woodworkers use rules instead of measuring tapes, as tapes are generally too coarse for fine woodworking.
The better way to measure the size for the lid is to use a thin offcut of wood to mark the inside of the box. This guarantees that the size will be correct and you have eliminated the need for numbers and math. Take that stick to whatever tool you need to use to set power-tool fences or to strike lines in the case of hand-tool woodworking. If you're making something that you build multiples of, you can save these referential measurements in the form of jigs or story sticks.
There are plenty of ways to have things go pear-shaped while building a wooden object. Eliminating math or number transcription errors goes a long way toward reducing those frustrations so you can focus on your techniques and skill as a woodworker. As for deciding between metric and imperial, ultimately that's up to you and what works better for you. But I recommend ditching either system as early in the process as you can. You'll have more accuracy in the end.
| | |
| --- | --- |
| | The argument that "it's just as easy" to work in fractional inches over metric is ludicrous |
| | Guy Dunlap is experimenting with the metric system, but like many before him, he's discovering that it might be all or nothing. |
| | Vic Tesolin relies on three main tools for measuring: a measuring tape, a rule, and a trusted frame of reference. |