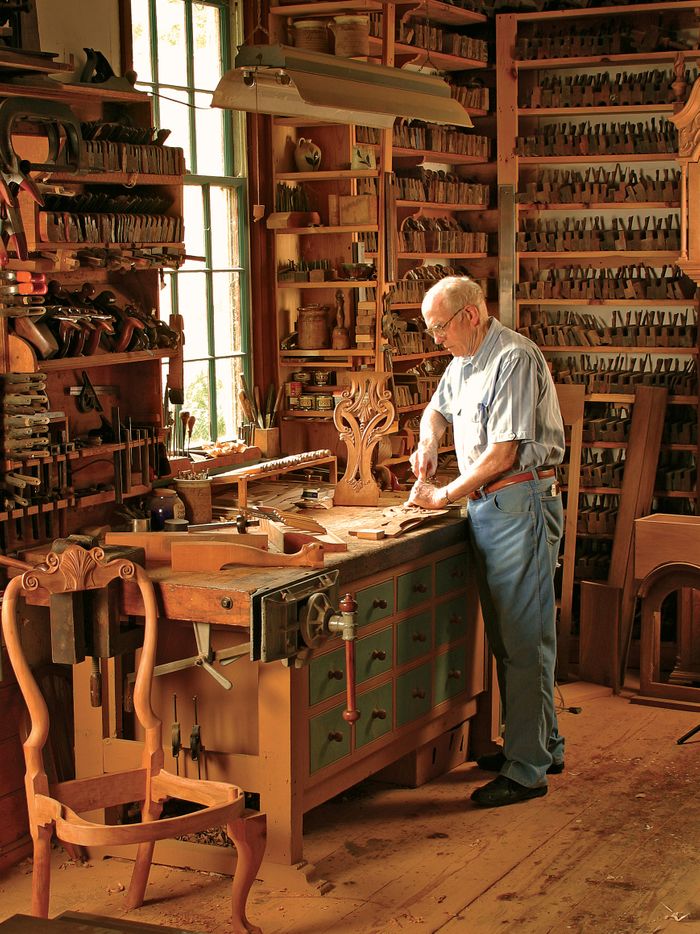 Fine Woodworking Project Guides
Hand Tools
Everything you need to know about choosing, sharpening, and using hand tools.
Working wood with hand tools can be a source of pleasure, putting the emphasis on the process as much as on the result. Yet hand tools also are essential to the highest level of craftsmanship, bringing a refinement to work that machines alone cannot produce. In this comprehensive project guide, expert woodworkers explain how they choose, sharpen, and use every kind of hand tool (except handplanes, which are covered in their own separate guide). Whether you're a beginner or a pro, this guide will help you improve your hand-tool skills while you enjoy the satisfying relationship between tool and wood.
An Introduction to Hand Tools

All woodworkers have their own preferences for hand tools, and in this introductory chapter we'll find out what the pros consider their essential tools. You'll get a chance to look inside the toolboxes of furniture makers and cabinetmakers, joiners and wheelwrights to discover their all-time favorite tools. While there's no shortage of commercial hand tools on the market, some woodworkers prefer to make their own, and we'll show you how. The chapter ends with some basic skill-building exercises to get you ready for the chapters to come.

Layout Tools

Layout tools are the foundation for accurate work, helping you create precise joinery, angles, and curves. They also serve as important references for squareness and flatness. In this chapter, pro woodworkers share their picks for the essential measuring and marking tools, from tape measures and combination squares to marking knives and bevel gauges. The pros also weigh in on what they consider the best tool for accurate layout (pencil or knife?). And although layout tools don't require much in the way of tune-up, you'll learn how to sharpen a cutting gauge and true up a combo square.

Handsaws

You don't have to be a hand-tool fanatic to know that a handsaw is often the smartest, most efficient choice for the job at hand. Machine-powered saws have their place, of course, but for cutting angled tenons, mitering delicate moldings, and many other tasks a handsaw is the tool of choice. In this chapter, you'll not only learn about must-have saws like backsaws and dovetail saws but also delve into the world of Japanese pullsaws. We'll show you how to sharpen a dull handsaw and share some invaluable tips on improving your handsaw technique.

Chisels and Mallets

For those who are a bit overwhelmed by the array of chisels available today—from butt to bench, mortise to paring—this chapter will help you choose the essential chisel set, including what to buy first. In addition to Western chisels, you'll also learn about Japanese chisels, which take and hold a superior edge. We'll show you how to sharpen any chisel, of course, and also how to fashion a chisel handle. You'll find tips and tricks for chopping, paring, chamfering, and shaping techniques. And as a special bonus, we've included a section on hammers and mallets, those all-important striking implements.

Shaping and Carving Tools

Files and rasps are the unsung heroes of the hand-tool world. Though often overlooked and underappreciated, these shaping tools can remove stock quickly and effortlessly and allow you to create any shape imaginable in wood. Also included in this final chapter of the guide are all types of carving tools: not only gouges and knives but even axes and adzes. You'll learn how to sharpen and customize your carving tools (including drawknives), and in the concluding section we'll share some techniques for mastering these tools, whether carving a spoon or a ball-and-claw foot.

See more in the Handplanes Project Guide

There is so much to say about choosing, sharpening, and using handplanes that they merit their own separate project guide. The links below take you to the first chapter of the Handplanes guide; click on any link and you'll be in that guide. Just don't forget to come back to the Hand Tools guide!