Wooden quilts
In part 1 of this series, Yoav Liberman illustrates a number of creative ways to make use of small wood scraps.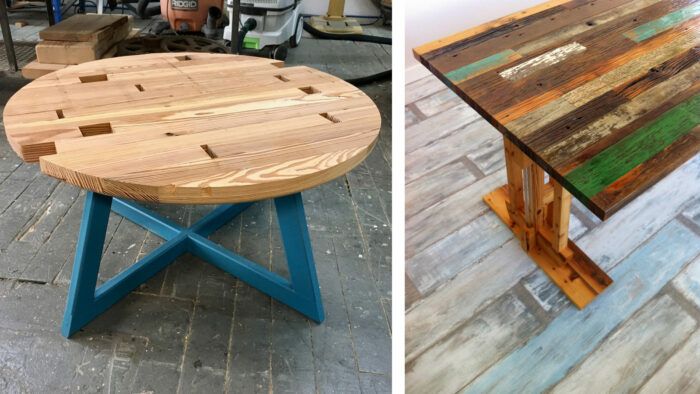 In my previous blog entry, I discussed the concept of Scraps-of-Note, which refers to exceptional pieces of wood that are often overlooked as scraps but can be transformed into valuable canvases for new projects. Today, I want to delve into another resource for woodworking enthusiasts: small and seemingly mundane wood scraps that can be skillfully assembled to create artistic-surface quilts. These quilts can then be used to shape furniture tops and panels, adding a unique touch to your woodworking projects.
My fascination with this technique began during research for my book, "Working Reclaimed Wood," which explores innovative approaches to using reclaimed materials. While delving into the topic, I discovered a few reclaimed artists who demonstrated exceptional skill in merging small wood scraps to form a tapestry of colors and grain that left me astonished. Artists like Piet Hein Eek, Irene Ferri, Gilad Erjaz, and Victor Valencia incorporate reclaimed and weathered wood into their quilts, while others prefer to work with recently processed lumber scraps.
Although this form of surface creation is commonly associated with scrap or reclaimed wood media today, its aesthetic origin can be traced to parquet flooring design.
There are two main methods for creating a wooden quilt: joining the parts to form a structural panel similar to how we glue "butcher block boards," or gluing the quilt parts to a structural substrate. I'll cover the first method here, and the second in a subsequent blog post.

Structural wooden quilt
The first technique allows us to rely on the quilt as a true structural panel. This type of tapestry possesses structural integrity and can serve as tabletops, solid doors, or furniture carcase parts. Creating such a quilt requires meticulous preparation to ensure accurate milling of the pieces for perfect alignment, edge matching, and attention to grain orientation.
In addition to the straightforward method of gluing the parts in rows, where each piece is tucked against its neighbor along an edge (similar to a masonry wall), solid quilts can be created by assembling easier-to-glue subunits. Once the adhesive of the subunits has cured, they are jointed and milled to match the design before being assembled for the final glue-up. Another method for creating a structural quilt is the Onion method, where a few inner circle segments are glued together to form a center-piece unit, and additional pieces are gradually added around it to increase the surface area. This incremental process is recommended for complex quilt geometries but, like the previous method, requires continuous jointing before edge gluing the subsequent pieces.
Quilt plans
Here are some plans for arranging shorter segments of scraps to form a quilt. Note that some layout designs have elements cut at an angle. You don't have to keep the end-grain edges always at a right angle. Cutting the scraps at a diagonal adds interest.
Utilizing scraps comprised of two types of wood
In this example, the different lengths of the scraps can inform how to arrange them in the quilt. If you have scraps of two types of wood (maple and walnut, for instance), you can let the darker wood express an accented geometry that makes the panel look impressive.
Some glue-up configurations are easier than others
As you can see below in both examples, the scraps were glued together, and then the panel was cut in a circle to form a tabletop.
Next time, I will showcase the second approach for creating wooden quilts – quilt tapestries over a structural substrate. 
Previously in this series
| | |
| --- | --- |
| | There's a treasure trove of wood out there for those with the imagination to reclaim it. |
| | Within the scrap bins of commercial shops, a bounty of excellent wood can be found. |
| | Scraps of note: These big and beautiful offcuts can serve as a jumping-off point for very creative work. |