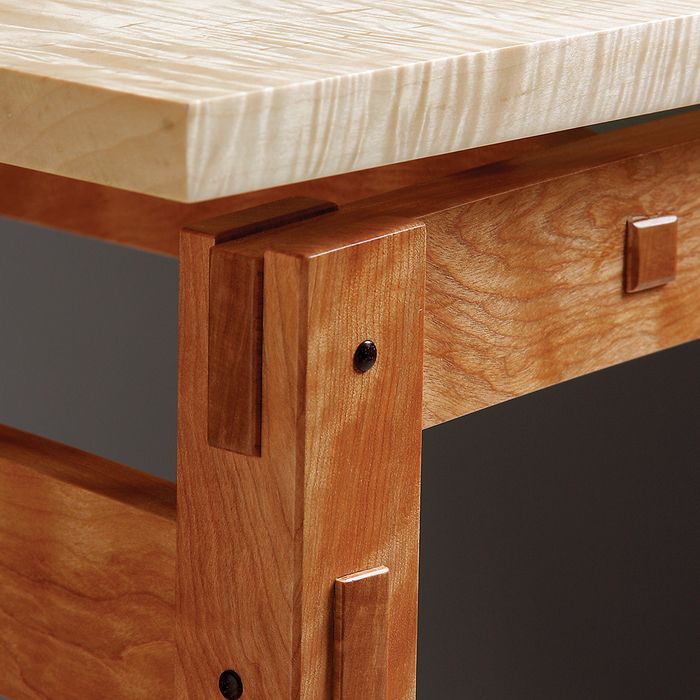 Fine Woodworking Project Guides
Joinery
Everything you need to know to master the essential wood joints.
All woodworkers know that joinery tells how well a piece is made and how skilled the maker is. This comprehensive guide demystifies the all-important subject of choosing, designing, and cutting woodworking joints. We cover everything from traditional rabbets and grooves, mortise and tenons, dovetails, and box joints to more recent innovations such as biscuits, Dominos, and pocket-hole joinery. The guide is packed with insightful information and tricks of the trade that will advance the work of novices and seasoned woodworkers alike. It's an essential guide to making beautiful, enduring joinery.
Rabbets and Dadoes

Rabbets and dadoes are simple joints and a logical place to begin our journey into the world of joinery. Together they form the fundamental joinery that finds its way into just about everything that woodworkers build. While rabbets and dadoes are not difficult to execute, the method you use to make them varies depending on the situation at hand. In this opening chapter, expert furniture makers provide insight into how they use these joints in their work and explain how to cut rabbets and dadoes both by hand and by machine.

Mortise-and-Tenon Joinery

When it comes to essential joinery, the mortise and tenon is hard to beat. It finds its way into most pieces that woodworkers make, offering a lot of mechanical strength and keeping parts aligned during assembly. The joint can be completely concealed, or it can extend through the workpiece to become a decorative (as well as structural) element; and it can be pinned, wedged, or drawbored. Let's face it, the mortise and tenon is a versatile and valuable joint. In this chapter, you'll learn how to cut the joint by hand or machine, whether the basic mortise and tenon or one of its many variations.

Dovetails

The dovetail is the iconic woodworking joint, a symbol of handcrafted work and a true test of your mastery of the craft. We can all agree that the dovetail is a highly useful joint and one of the most effective ways to join boards to form a corner. But there the agreement stops. Should you cut the pins first or the tails? We'll let the pros make their case and leave you to try both. For some woodworkers, the only way to cut dovetails is by hand; others prefer to cut the joint by machine; and still others opt for a combination of the two. We'll show you all the options...and for all the variations from half-blind and mitered dovetails to compound-angle and sliding dovetails.

Box/Finger Joints

The box joint, sometimes called a finger joint, is a close cousin and simple alternative to the dovetail, but instead of angled tails and pins, box-joint fingers are straight. Like the dovetail, the box joint is a way of solidly joining two planks or panels of solid wood end-to-end, appropriate for anything from jewelry boxes to full-size cabinet components. While it's true that the box joint can be cut by hand, the most efficient and most common method is to machine the entire joint—either on a tablesaw or router table. We'll show you how to make a couple of handy jigs to ensure tight-fitting box joints.

Joints with Fasteners

In this final chapter of the guide, we'll step away from traditional joinery and take a look at the various fasteners that can be used to strengthen joints. First up is the undervalued and underused dowel joint, a strong and unobtrusive joint that depends for its accuracy on a simple doweling jig. Biscuit joinery is a much more recent invention and is hard to beat for speed, accuracy, and ease of use. It may not match the beauty of a dovetail or the strength of a mortise and tenon, but biscuit joinery gets the job done. The Domino joinery system is a truly revolutionary development, and we'll provide plenty of tips and techniques for working with this game-changing tool. And to round out the guide we'll show you how to use pocket screws for sturdy, basic cabinet joinery.